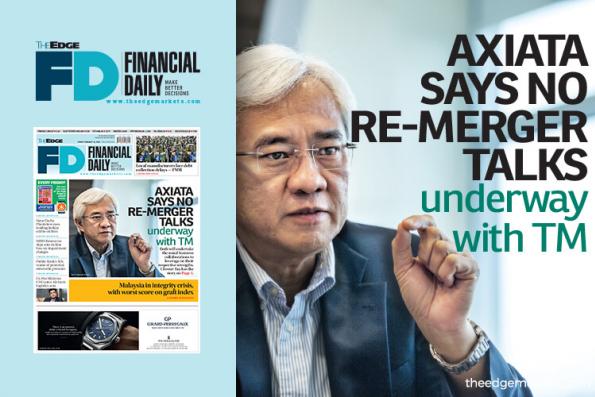 KUALA LUMPUR: Axiata Group Bhd president and group chief executive officer Tan Sri Jamaludin Ibrahim said there are no ongoing re-merger talks between the company and Telekom Malaysia Bhd (TM), despite the potential synergies.
Rather, both companies will undertake the usual business collaborations to leverage on their respective strengths.
"While both parties would [stand to] gain [from a re-merger], but remember, we demerged for certain reasons and those reasons are still true today. We wouldn't have demerged (in April 2008) if we knew that it wouldn't be beneficial for us. In short, frankly, I do not think that it will be something that can happen immediately. It is very complex stuff," he told a media briefing yesterday.
"There are a few reasons why we had demerged; some of them we did not disclose. But on a business focus, you can argue that today, both companies are doing mobile and fixed lines and what we have decided to do instead of a re-merger is to collaborate," he said.
Jamaludin also said Celcom Axiata Bhd is renegotiating a 2016 collaboration agreement with TM.
"If you recall, at the end of 2016, we piggybacked on their (TM) fixed line, fibre to the homes or HSBB (high-speed broadband); they piggiedbacked on our mobile infrastructure. That was doing reasonably well, but after we completed the agreement, the market structure changed again and today, prices have gone down on both sides, for HSBB and mobile. As such, the agreement is being renegotiated," he said.
Meanwhile, Jamaludin did not rule out a possible divestment of Axiata's 16%-owned associate Idea Cellular Ltd in India, after the latter completed its merger with Vodafone Group.
"We have been a strategic partner of Idea, although we are not involved in the day-to-day management, but we are on the board and we are kind of involved in the strategic direction of the company.
"With the significant dilution of Axiata's [shareholding in Idea] from where we were — 19% then — now we [have] become 16%, and after the Idea-Vodafone merger, we will be less than 10% — our role as a strategic partner will, in a way, disappear — [but] not entirely. Because Vodafone will be their strategic partner, so we will become primarily an investment," Jamaludin explained.
"Therefore, Idea as a strategic asset for us will not diminish, but will reduce substantially. And we are not a financial investor. What these [shareholding changes] imply is that in the long run, we will be considering a possible exit, but it might happen in months or even five years from now — I won't dare give you any kind of guidance in terms of timing. [But] what I am saying is that strategically, it is effectively no longer a strategic asset to us," he said.
Apart from Idea, Axiata's other associate is 29%-owned M1 Ltd in Singapore, which the group attempted to divest last year, but the plan was called off.
Jamaludin said M1's current market value is S$2 billion (RM5.93 billion), while Idea's market capitalisation stands at US$6 billion (RM23.52 billion), which means Axiata's current 16% stake is worth some US$1 billion.
"That is a lot of cash, but we don't need them. We are not under pressure [to sell] as our debt-to-earnings before interest, taxes, depreciation and amortisation (Ebitda) ratio is about 2.1 times, which is a comfortable level, and we have RM6.8 billion cash in hand," he said.
On the potential public listing of Axiata's telecommunications tower building business, edotco Group Sdn Bhd, Jamaludin reiterated that there is no specific timeline for its initial public offering.
"Our focus right now is to complete the acquisition in Pakistan. We will be very busy with that. We might look beyond that to get strategic alternative funding, but at this point in time, everything is being discussed," Jamaludin said.
Jamaludin also revealed Axiata's key performance indicators for the financial year ending Dec 31, 2018, based on a constant foreign exchange of US$1 to RM3.90, are a 6.3% revenue growth, Ebitda growth of 5.8%, up to 5.5% return on invested capital, 5% return on capital employed, and capital expenditure of RM7.4 billion.
Axiata's share price closed one sen or 0.18% lower at RM5.67 yesterday, valuing it at RM51.3 billion.
Source: The Edge