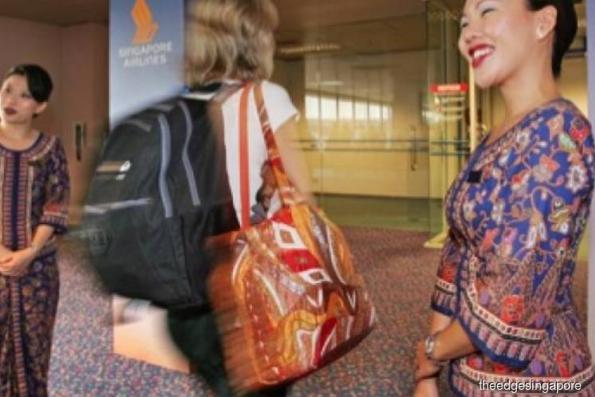 SINGAPORE (Mar 9): UOB Kay Hian is upbeat on the Singapore aviation sector, following the teaming up of Singapore Airlines (SIA), SATS, and duty-free provider DFASS to offer inflight duty-free and duty-paid goods.
The brokerage is keeping its "market weight" rating on the sector.
SIA on Thursday agreed to subscribe to a 70% stake in inflight sales concessionaire DFASS SATS – a 50:50 joint venture company between DFASS and SATS' wholly-owned subsidiary SATS Asia-Pacific Star (APS).
The deal will see SIA provide travel-related retail operations in Singapore under the KrisShop and Scootalogue brand names.
"In effect, SIA will be tapping into the rising trend of e-commerce retail sales and doing so by partnering with key players in the supply chain," says analyst K Ajith in a Friday report, adding that it is "SIA's most tangible attempt yet to grow its ancillary revenue."
According to Ajith, SIA has approximately 3 million Krisflyer members, who generally opt to redeem flights.
"Given [DFASS'] attractive procurement cost, SIA will be able to offer better pricing on alcohol and fragrances compared with other retail outlets. If Krisflyer members choose to utilise their miles for such purchases, SIA will generate better margins than if they choose to redeem flights," he says.
SIA saw its group earnings soar 61.6% to $286.1 million for the 3Q ended December, as group revenue grew 6.0% to $4.08 billion on the back of revenue improvements in all business segments.
The higher earning, though, were mainly attributed to a 12% increase in operating profit to $329.4 million in 3Q17/18, as well as the absence of a $79 million writedown of the Tigerair brand and trademark made a year ago.
UOB is keeping its "buy" call on SIA with a target price of $11.90.
While SIA's stock price has weakened following plans by Changi Airport to raise levies, Ajith says the incremental fees are unlikely to impede outbound travel or even inbound tourism.
Changi Airport Group (CAG) on Feb 28 said it will raise aeronautical fees for both passengers and airlines from July 2018 to help fund part of the Changi East development, as well as the upgrading and refurbishment of existing terminal infrastructure and security facilities.
"Airlines are likely to pass on the cost increase, although low-cost carrier, Scoot could be somewhat impacted," says Ajith. "Even so, we believe that SIA's attempt to raise ancillary income could boost group profits."
At the same time, Ajith believes that SATS, with a 15% stake in the joint venture, is also set to benefit from its share of the profits. In addition, the gateway services provider will also be lifted by logistics support at Changi as well as Marina Bay Cruise Centre
"Both SATS and DFASS could subsequently partner other carriers at key gateways, Istanbul, Kuala Lumpur and Beijing," he adds.
SATS saw its earnings rise 2.3% to $66.6 million for the 3Q ended December, mainly due to a $4.5 million write-back of earn-out consideration recorded during the quarter. Group revenue slipped marginally by 0.2% to $439.8 million in 3Q17/18.
See: SATS' 3Q earnings up 2.3% to $66.6 mil on one-off writeback
According to Ajith, SATS has corrected by 14% from recent peak, following marginally weaker-than-expected earnings contribution from associates in 3Q18 and presumably on concerns that higher levies could impact traffic volume.
However, the analyst reiterates that SATS remains UOB's top pick in the aviation sector.
UOB has a "buy" recommendation on SATS with a target price of $5.90.
As at 1.26pm, shares of SIA are trading 2 cents up at $11.03 and shares of SATS are trading 12 cents up at $5.15.
Source: The Edge