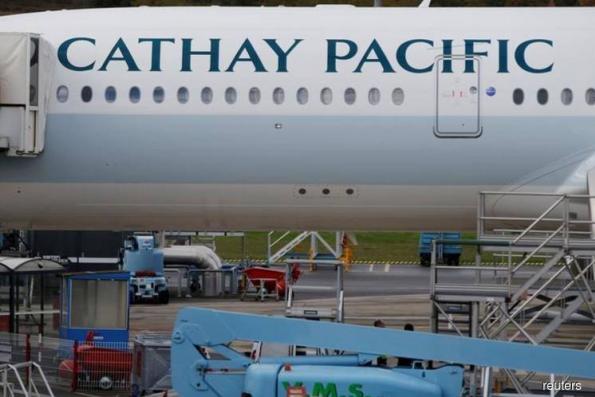 SINGAPORE (March 15): Cathay Pacific Airways expects airfares will recover further this year after four years of declines, a senior executive said, offering a positive outlook for the Hong Kong airline that sent its shares 7.6% higher on Thursday.
The carrier posted on Wednesday a smaller-than-expected annual loss of HK$1.26 billion (US$160 million) due to a rebound in the cargo market, a slower pace of decline in ticket prices and lower fuel hedging losses.
At an analyst briefing after the results, Cathay Pacific said passenger yields, a proxy for airfares, had fallen by only 1.5% in the second half of 2017, compared to a 5.2% decline in the first half. Second-half yields were 3.1% higher than the first-half.
"We expect that the trend in passenger yield will continue the momentum we had in the last half of last year, and so far this year the trend has been promising," Paul Loo, Cathay's chief customer and commercial officer, told analysts in a webcast of the Wednesday briefing, which was not open to members of media.
Rivals Singapore Airlines and Qantas Airways also reported smaller yield declines in the second half of last year as airlines curbed discounting to counter the impact of rising fuel prices.
Cathay plans to add 4.2-4.3% capacity in its passenger business and 5% capacity in its cargo business in 2018, Loo said, with cargo yields expected to rise in the first half given stronger market conditions than a year ago.
The rebound in the cargo market was a major contributor to Cathay posting a HK$792 million profit in the second half of 2017 after a first-half loss.
Cathay is aiming to boost profitability through a three-year turnaround programme targeting HK$4 billion in savings. It has announced job cuts and plans to boost productivity including increasing the number of economy-class seats on Boeing 777 planes.
"We have done what we need to do to lay the foundation really to make substantive change in the business," CEO Rupert Hogg told analysts, adding there was "still a lot of work to be done".
The 777 refurbishment will begin next month, with all 65 jets to be completed by the end of 2019, Loo said.
Daiwa Capital Markets' analysts raised their earnings forecasts for Cathay after the results. In a note to clients, they said passenger yields were expected to rise by 2%, versus a previous flat forecast, while cargo yields would rise by 7% from 2% expected previously.
Cathay shares posted their strongest one-day gain in more than nine months to hit an intra-day high of HK$14.82, their highest level in two-and-a-half years, during trading on Thursday. By midday, they were up 4.9% at HK$14.46.
(US$1 = 7.8415 Hong Kong dollars)
Source: The Edge