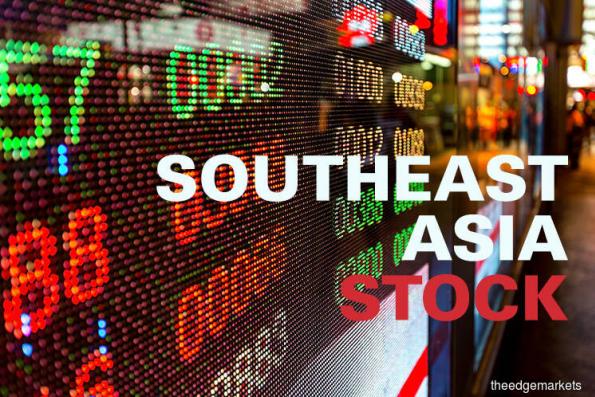 (May 15): Philippine shares extended gains for a third consecutive session and touched a one-month high on Tuesday, as foreign buying continued, while Indonesia shed nearly 1%, weighed down by financials.
The Philippine index rose as much as 1.6%, with real estate and industrials leading the gains.
"There is inflow of foreign funds and it's a subsequent move from last week," said Manny Cruz, analyst at Asiasec Equities Inc.
Property developer SM Prime Holdings gained as much as 6% and SM Investment Corp rose 1.5%.
Bangko Sentral ng Pilipinas had raised its benchmark interest rate for the first time in over three years on Thursday, following robust first-quarter GDP data, which is helping the markets, added Cruz.
Foreign investors net bought 571.1 million pesos (US$10.88 million) worth of equities on Friday, according to Philippine Stock Exchange data. The financial markets were closed on Monday for a holiday.
Malaysian stocks edged 0.5% higher, with telecom and consumer sectors reaping benefits from a possible repeal of the goods and service tax.
Telecommunication service provider Maxis Bhd climbed as much as 5.4%, while Genting Malaysia was up 1.8%.
In other parts of Southeast Asia, Indonesia slipped over 1.5%, dragged down by financials. Indonesian equities took a beating all of last week, on capital outflow worries.
Apart from the suicide bombing attacks that happened on Monday, the currency is also one of the worst performers in the region, adding to investor anxiety, Cruz said.
Bank Central Asia shed over 3%, while Bank Mandiri fell as much as 2.8%.
An index of country's 45 most liquid stocks fell about 2%.
Thailand fell marginally, as gains in healthcare stocks were offset by losses in financials and energy stocks.
PTT Public Co, down as much as 1.8%, was the biggest loser.
SOUTHEAST ASIAN STOCK MARKETS AS AT 0421 GMT
Change on the day
Market             Current  Previous close  Pct Move
Singapore          3552.01  3562.46         -0.29
Bangkok            1766.69  1773.1          -0.36
Manila             7866.3   7752.11         1.47
Jakarta            5861.5   5947.155        -1.44
Kuala Lumpur       1856.82  1850.42         0.35
Ho Chi Minh        1075.03  1066.98         0.75
Change on year
Market             Current  End 2017        Pct Move
Singapore          3552.01  3402.92         4.38
Bangkok            1766.69  1753.71         0.74
Manila             7866.3   8558.42         -8.09
Jakarta            5861.5   6355.654        -7.78
Kuala Lumpur       1856.82  1796.81         3.34
Ho Chi Minh        1075.03  984.24          9.22
(US$1 = 52.5090 Philippine pesos)
Source: The Edge