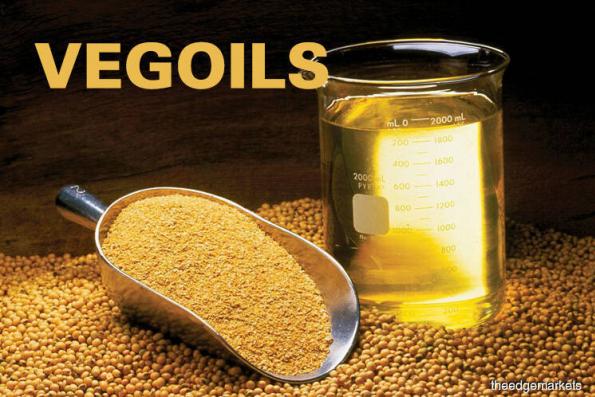 NEW DELHI (June 6): Higher benchmark soybean prices in Chicago and India's plans to raise the import tax on soft oils pushed up Malaysian palm oil futures on Wednesday, a day after they hit their lowest in nearly a month.
The palm oil contract for August delivery on the Bursa Malaysia Derivatives Exchange was up 0.12% at RM2,405 (US$605.41) a tonne at the midday break.
Trading volume stood at 8,274 lots of 25 tonnes.
"The market edged a little higher on the back of stronger soybean prices in Chicago," said a Kuala Lumpur-based palm trader.
On Wednesday, the most active soybean futures on the Chicago Board Of Trade rose 0.4% to US$10.04-3/4 a bushel, having closed little changed on Tuesday.
The report that India would raise the import tax on soft oils also helped the market edge up, said another trader from Kuala Lumpur.
A senior government official in New Delhi said on Tuesday that India, the world's biggest vegetable oil importer, was considering raising import taxes on soft oils.
India currently levies a 30% import tax on soyoil and 25% each on rapeseed and sunflower oils. The import taxes on crude and refined palm oils are at 44% and 54% respectively.
Palm oil is influenced by rival edible oils as they compete for a share in the global vegetable oils market.
Palm oil demand continues to be weak, as Ramadan buying has ebbed, said the second trader.
Buyers typically stock up palm oil a month before Ramadan, which began in mid-May this year.
Malaysia's palm oil exports in May dropped 8.8% from April to around 1.2 million tonnes, independent inspection company AmSpec Agri Malaysia said last week.
Cargo surveyor Societe Generale de Surveillance (SGS) said the country's May palm oil exports fell 9.9% from a month ago.
In Indonesia, the world's top palm oil exporter, shipments of palm and palm kernel oils plunged 13.6% in April, data from the Indonesia Palm Oil Association showed.
Palm oil may fall to RM2,364, as it has broken a support at RM2,408 per tonne, said Wang Tao, a Reuters market analyst for commodities and energy technicals.
Palm, soy and crude oil prices at 0532 GMT
| | | | | | | |
| --- | --- | --- | --- | --- | --- | --- |
| Contract             | Month         | Last    | Change       | Low      | High    | Volume |
| MY PALM OIL | JUN8 | 2405 | 0.00 | 2397 | 2409 | 186 |
| MY PALM OIL | JUL8 | 2405 | 6.00 | 2398 | 2408 | 958 |
| MY PALM OIL | AUG8 | 2405 | 3.00 | 2399 | 2412 | 3,994 |
| CHINA PALM OLEIN | SEP8 | 5034 | -4.00 | 5020 | 5054 | 142,312 |
| CHINA SOYOIL | SEP8 | 5814 | -16.00 | 5810 | 5848 | 198,856 |
| CBOT SOY OIL | JUL8 | 30.87 | 0.60 | 30.73 | 30.89 | 2,311 |
| INDIA PALM OIL | JUN8 | 649.50 | 0.60 | 647.70 | 650.00 | 66 |
| INDIA SOYOIL | JUN8 | 756.50 | 0.35 | 755.00 | 760.00 | 1,410 |
| NYMEX CRUDE | JUL8 | 65.87 | 0.35 | 65.44 | 65.90 | 38,435 |