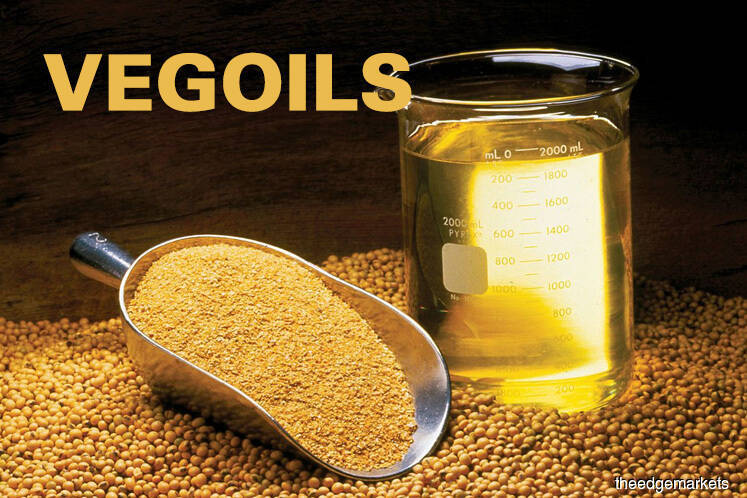 KUALA LUMPUR (July 5): Malaysian palm oil futures were poised for a third straight session of declines on Thursday, as traders took a cautious stance over mounting China-U.S. trade war friction and on the lack of bullish news.
The benchmark palm oil contract for September delivery on the Bursa Malaysia Derivatives Exchange was down 0.3% at 2,291 ringgit (US$566.52) a tonne at noon.
Trading volumes stood at 21,708 lots of 25 tonnes each at noon.
The Trump administration's decision to impose tariffs on US$34 billion in Chinese exports to the United States is due to go into effect on Friday.
China said its tariffs on U.S. goods will take effect immediately after Washington's tariffs on Chinese goods kick-in.
"The market is cautious as anxiety over the U.S.-China trade war loomed in," said a Kuala Lumpur-based trader, while another trader said the lack of market-supportive news pulled down palm prices.
Palm oil prices dropped 4% last month, hitting a two-year low on the back of lean demand. It declined 1.5% so far this week.
According to a Reuters poll, Malaysian inventories for June are seen edging down to a nine-month low at 2.15 million tonnes, while production is expected to decline 11.1% to 1.36 million tonnes, its lowest since February.
The poll also forecast exports to fall 7.8% to a three-month low of 1.19 million tonnes in June.
In other related oils, the September soybean oil on China's Dalian Commodity Exchange slid as much as 0.1% and the Dalian September palm oil contract climbed up to 0.1%.
The Chicago December soybean oil contract was closed for a public holiday on Wednesday.
Palm oil prices track the performance of other edible oils, as they compete for a share in the global vegetable oils market.
Palm oil is biased to break a support at 2,290 ringgit per tonne and fall to the next support at 2,270 ringgit, said Wang Tao, a Reuters market analyst for commodities and energy technicals.
 Palm, soy and crude oil prices at 0455 GMT
Contract          Month    Last  Change     Low    High  Volume
MY PALM OIL       JUL8     2275   +6.00    2275    2280      20
MY PALM OIL       AUG8     2291   -6.00    2288    2309    1707
MY PALM OIL       SEP8     2291   -7.00    2291    2310    5544
CHINA PALM OLEIN  SEP8     4842   +4.00    4784    4848  135142
CHINA SOYOIL      SEP8     5584   -8.00    5542    5594  143840
CBOT SOY OIL      DEC8     29.2   +0.00       0       0       0
INDIA PALM OIL    JUL8   629.00   +0.80  628.10     629      20
INDIA SOYOIL      JUL8    750.5   -0.05   749.7     752     510
NYMEX CRUDE       AUG8    73.87   -0.27   73.50   74.90  259901
 Palm oil prices in Malaysian ringgit per tonne
CBOT soy oil in U.S. cents per pound
Dalian soy oil and RBD palm olein in Chinese yuan per tonne
India soy oil in Indian rupee per 10 kg
Crude in U.S. dollars per barrel
(US$1 = 4.0440 ringgit)
(US$1 = 68.8300 Indian rupees)
(US$1 = 6.6374 Chinese yuan)
Source: The Edge