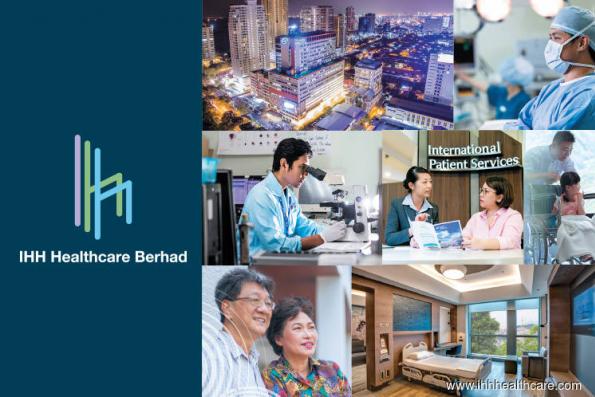 KUALA LUMPUR (Aug 9): Shares of IHH Healthcare Bhd fell as much as 3.4% in early trade after it was reported that its planned purchase of Indian hospital group Fortis Healthcare Ltd has been derailed by a court order prompted by Japanese drugmaker Daiichi Sankyo's protest.
The stock hit an intraday low of RM5.76 today. At 3.02pm, IHH shares were trading at RM5.77, still down by 19 sen or 3.19% from yesterday's close of RM5.96. A total of 3.6 million shares were traded, bringing a market capitalisation of RM46.78 billion. The stock was the fourth top loser on Bursa Malaysia.
On July 13, IHH announced it was acquiring a 31.1% stake in Fortis for INR4,000 crore (about RM2.35 billion) or INR170 (about RM9.98) per share. The plan is to acquire a majority stake through a combination of private placement and tender offer by the end of 2018.
Nikkei Asian Review reported today that Daiichi Sankyo had filed with the Delhi High Court to block the deal.
"Malvinder and Shivinder Singh, who founded Fortis, were ordered in January to pay 35 billion rupees in damages to Daiichi Sankyo over the sale of Ranbaxy Laboratories, a generic drugmaker. The brothers were found to have withheld critical information from Daiichi Sankyo, when they sold their stakes in Ranbaxy in 2008," Nikkei's report said.
The application could delay the timeline of IHH's acquisition into Fortis.
A similar application was also moved by Daiichi Sankyo in March against a consortium comprising Manipal Health Enterprises and US private equity firm TPG, which was competing against IHH and another firm to buy into Fortis.
A source close to the IHH-Fortis deal told theedgemarkets.com that the share subscription agreement (SSA) with Fortis could proceed, despite the outcome of Daiichi's application of injunction, but declined to elaborate because the matter is currently being heard in court. The IHH-Fortis SSA is currently pending approval from Fortis' shareholders on Aug 13.
In the latest development, Malvinder and Shivinder Singh were told by the High Court to appear in court tomorrow (Aug 10) to assist the case, as to understand whether the brothers, as well as entities linked to them, had sufficient funds to honour Daiichi's arbitration order.
The two founders had resigned as Fortis directors in February, and held negligible stake in the ailing healthcare group, according to reports.
Source: The Edge